Save the Date! September 21-23, 2018
San Antonio, Texas
The next Texas College & University Facilities Professionals Conference is September 21-23, 2018 in San Antonio, Texas in cooperation with the Texas Higher Education Coordinating Board.
---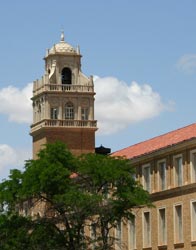 Statement of Purpose:
The Association shall contribute to the development and continuing education of facilities management, maintenance, planning, and construction professionals working within and associated with higher education institutions in the State of Texas. Working in cooperation with a university, community college, or health science center, conferences shall be provided by the association to disseminate information and exchange ideas in areas of common interest at various locations around the State of Texas. The association may enter into agreements and cooperate with other professional organizations whose objectives are deemed consistent with the goal of providing ongoing education for facilities professionals. The association may invite representatives of various state and federal agencies as well as other outside professionals to participate in discussions and to assist in the solution of common problems.